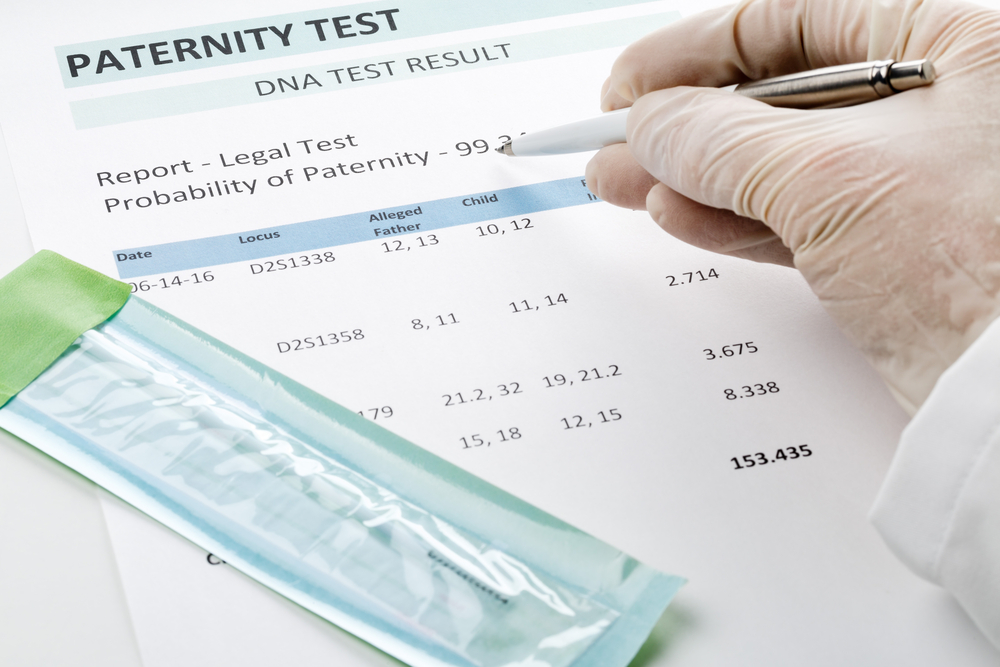 In 2002, actress and model Elizabeth Hurley gave birth to her son Damian. Woman gives birth – nothing unusual about that. However, baby Damian Hurley quickly became the subject of a Victorian-like scandal involving his paternity. For 18 months, Ms Hurley had been in a relationship with American millionaire Steven Bing. However, soon after the pregnancy was announced, Mr Bing (caddishly some say) told the media he and Ms Hurley had "not been in an exclusive relationship" at the time of her pregnancy. One must admire the grace and fortitude of Ms Hurley during this time, who said Mr Bing's comments left her "deeply distraught". After her son was born, a DNA test confirmed Mr Bing was Damian Hurley's father. Mr Bing offered to pay $1.8 million in child support, an offer which was promptly turned down by Ms Hurley.
Recent studies show that between 0.6 and 0.9 percent of men are unwittingly raising offspring which are not biologically related to them, a figure which has held constant for the past 400 years[1]. The issue of paternity still matters in modern society, not least because of the requirement of the father of a child to pay child support payments.
Under English law, a man is presumed to be a child's father if he was married to the mother at the time of the child's birth or is named on the Birth Certificate. If these factors exist, a man will be required to pay child support unless his paternity is disproved by a DNA test.
One of the most common questions regarding paternity tests comes from worried mothers who ask, "can I refuse a DNA test regarding my child". The answer is yes, if the court deems it in the child's best interests to do so[2].
A recent Court of Appeal judgment has extended the reach of a paternity test to beyond the grave. The decision in Valerie Anderson (Personal Representative of William Brian Anderson Deceased) v David Spencer is a landmark case which has opened the way for genetic testing to be done on dead people[3].
The facts of the case
The Respondent's (Mr Spencer) mother had a relationship with William Anderson prior to the Respondent's birth. There was no contact between Mr Spencer and Mr Anderson during the latter's lifetime. Mr Anderson died without a Will in July 2012; his mother, the Appellant, Mrs Anderson, became his personal representative.
The reason Mr Spencer wished to know whether Mr Anderson was his biological father was that prior to his death, Mr Anderson had been diagnosed with bowel cancer, a type known as Lynch Syndrome which carried a 50% risk of inherited predisposition. Both Mr Anderson's father and grandfather suffered from the disease. Because of this tragic family history, a blood sample was taken from Mr Anderson before he died. DNA was extracted and retained by the hospital.
In July 2013, Mrs Anderson and Mr Spencer got in touch with each other. Mr Spencer said Mrs Anderson warned him of the risk of Lynch Syndrome and urged him to get a blood test. Mrs Anderson denied this.
In February 2015, Mr Spencer wrote to Mrs Anderson's GP setting out the history, informing the GP that the hospital held DNA samples from Mr Anderson and asking that he be referred to the hospital's genetic team in order to see if he was at "risk of bowel cancer and to clarify paternity".
Mrs Anderson subsequently contacted the hospital and asked for the DNA sample to be destroyed. She argued to the court that her deceased son was "entitled to a high expectation of confidentiality".
The High Court decision
In the High Court, Mr Justice Peter Jackson ruled in favour of Mr Spencer having access to the DNA to establish if Mr Anderson was indeed his father.
He stated:
"The overall evidence here raises the real possibility that Mr Anderson was Mr Spencer's father – he having undeniably been in a relationship with Mr Spencer's mother at the time of conception," he said. "It is common ground between the parties that there is a significant medical issue that turns on the possibility of a biological relationship between Mr Anderson and Mr Spencer."
He went on:
"Although it is possible that the late Mr Anderson… might have refused to consent to testing during his lifetime, there is no particular reason to regard that as likely. Whether or not he would have welcomed the possibility that he was a father, it may not do justice to his memory to assume that he would have withheld his support from a young man who might have inherited a serious medical condition from him. The information, in the form of the DNA sample, is readily available and does not require physically intrusive investigations. In particular it does not require exhumation, as to which particular considerations would undoubtedly arise".
Mrs Anderson appealed; but this was later withdrawn. However, given the significance of the matter, the Court of Appeal choose to make an authoritative decision on the case.
The judges held there was no reason to overturn the decision as Justice Jackson had considered the ethical and legal matters thoroughly.
Lord Justice King stated:
"In my judgment there is no basis for interfering with the judge's decision that on the facts of the case the order for DNA testing should be made. This was a case of a claimant wanting to know his paternity for a sound medical reason and in my view, once the issues in relation to jurisdiction and the human rights obligations have been cleared away, the wording of the order made by the judge allowing the DNA testing to take place, was not only inevitable but right".
Concluding comments
When coming to his conclusion, Justice Jackson did state that had the body of Mr Anderson needed to be exhumed in order to extract DNA his decision would have had to take account of many other ethical considerations.
In most countries, permission to exhume a body for DNA testing must be granted by the court and requires direct blood relatives to provide consent. This has been done, most famously in the case of Salvador Dali. In 2017, a Spanish court ordered the great artist's body to be exhumed after previous attempts by Pilar Abel, a 61-year-old tarot card reader and fortune teller failed. DNA results proved she was not his daughter[4]. Narcís Bardalet, the embalmer who prepared Dalí's body after his death in 1989 and helped with the exhumation, told reporters Dali's famous moustache was still intact.
Saracens Solicitors is a multi-service law firm based on the Strand in London. We have years of experience in family law and can assist you with paternity matters. We are also members of Resolution. For confidential information, please call our office on 020 3588 3500.
Do you have any comments to make on this article? Please feel free to add them in the section below
Table of content
Recent Posts
admin
If you are a university graduate and would like the [...]
admin
The saying that "a company is only as good as [...]
admin
From the 1st October 2023, the Civil Procedure (Amendment No.2) [...]