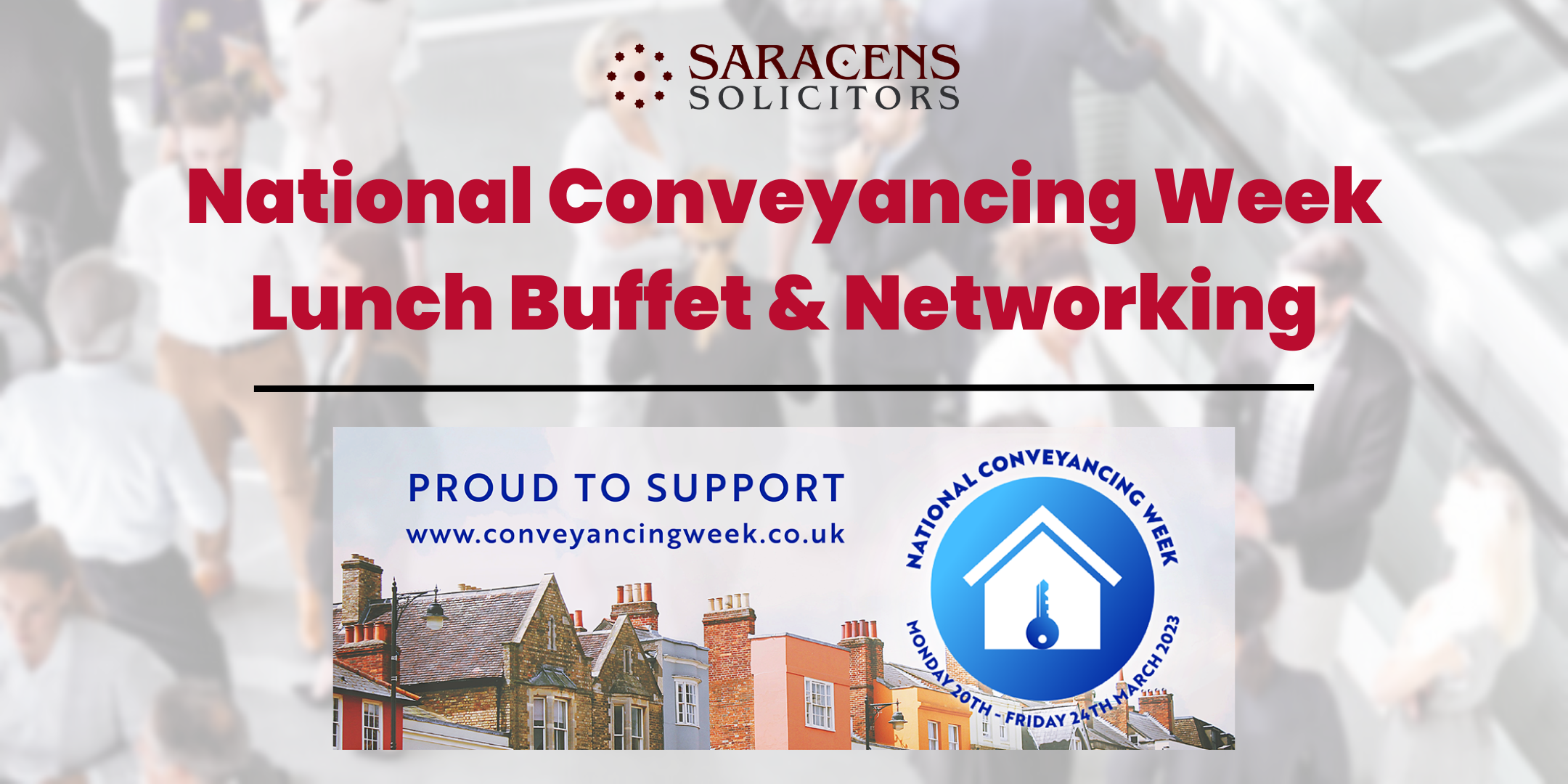 It is no doubt that buying a home is a huge life decision, commitment and one of the biggest goals for many people. Equally, selling a home is just as important. Conveyancers, estate agents, surveyors and mortgage brokers all play a huge role in making that goal come true.
At Saracens, we pride ourselves in ensuring we provide a quality service with expert advice, guidance, and knowledge, tailored to you, your circumstances and your property. The conveyancing process shouldn't be a stressful one, more so an enjoyable one. We want you to know that you are in safe hands and that the process will be smooth.
Part of that smooth service comes from knowing exactly how the roles of conveyancers, estate agents, surveyors and mortgage brokers are intertwined. In honour of National Conveyancing Week, we are bringing awareness to topics like these to increase transparency and understanding in the conveyancing process.
We are also opening our doors on Tuesday 21st March 2023 for a lunch buffet and networking session and look forward to seeing you there. Click the link to reserve your spot: https://www.eventbrite.co.uk/e/559543960047/
Here is a quick breakdown below about the players in the conveyancing process:
Agents
At the very start of your transaction, agents help bridge the gap between you and the seller. This means you can find out key details about the property before finalising your offer. Agents help keep the transaction moving by being the intermediary between your solicitor and the sellers solicitors.
Mortgage Brokers
A broker's key role is to assist you in arranging a mortgage with a lender and to help you understand the mortgage process. Brokers are also very important to us, because they help keep us informed on the progress of your mortgage offer which helps us manage expectations of all the parties involved.
Surveyors
A surveyor's role is to assess the structural integrity of a property. They will inspect the property and report to you on its condition. Surveyors are important as they are essentially our " eyes and ears on the ground." As your solicitor we do not visit your property, so a surveyor can alert us to factors that we otherwise would not be aware of.
Saracens Solicitors
Table of content
Recent Posts
admin
If you are a university graduate and would like the [...]
admin
The saying that "a company is only as good as [...]
admin
From the 1st October 2023, the Civil Procedure (Amendment No.2) [...]